Self-employment is a brave move. The Europe 2020 strategy promotes enterprising self-employment activities as well as it strives for better social protection for self-employed workers. We chose a few countries from our databases to check where the highest number of self-employed is.
Malta turns out to be a good place for self-employment as registering as self-employed is quite easy particularly for European Union and European Economic Area citizens. The process becomes a bit complicated in the case of the so-called "third-country national" – non-EU or non-EEA residents as a work permit is obligatory. Since 2007 the number of self-employed has been growing in Malta and there is no indication that it is going to fall down. In 2016, 23 670 of people having their own business were noted there.

Exotic Cyprus could be also an extraordinary place for self-employed but the number of workers has fallen by almost 35 000 there since 2005.

In the case of Estonia, you don't have to be the EU citizen in order to set up own business there. You just need to make sure that you have an outstanding business plan. The number of self-employed has been increasing there since 2011 and now it accounts for approximately 60 000 workers.

Czechia is the absolute leader among the abovementioned countries as over 800 000 self-employed workers were registered there in 2012. Currently, the amount of workers is lower by almost 50 000 but it does not affect Czech Republic's position as the country offers one of the most beneficial income-tax and affordable cost of living.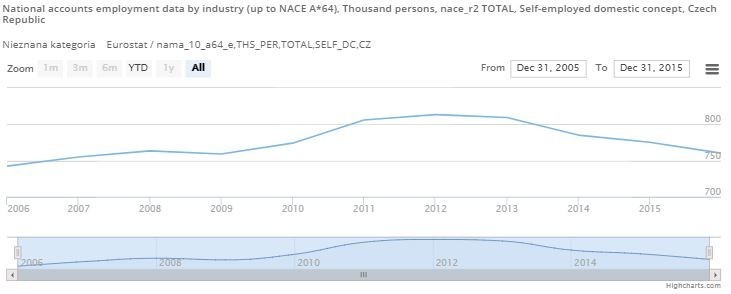 Sarah Pine-Swierczek