ExMetrix forecast models prove the exceptional correspondence of medium term models. All of them suggest an increase of primary non-ferrous metals. Additionally, the forecast is reinforced by further weakening USD against EURO.
The overview of historical and current ExMetrix forecast models.
The first 6-month model of copper was made in October 2016 on data to 30.09.2016. The model was built at 210.50USD/lb (4694,5 USD/t – LME).
The model forecast strong growth of the rate.
The end of the previous forecast fell on the end of February 2017. The rate of copper amounted to 271.50USD/lb (5936 USD/t – LME) on 28.02.2017. The forecast occurred at 259.70 (5765,5 USD/t – LME), and it was published on 13.12.2016. The rate grew by 4.5% since the publication throughout the end of the forecast period, and the rate increased by 29% from the moment when the model was made to the of the forecast period.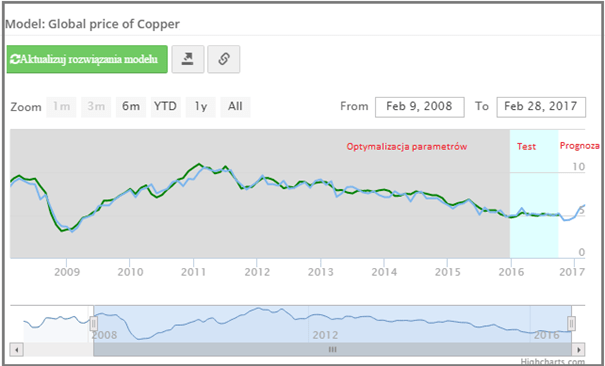 The next copper forecast was published at 261,7 USD/lb (5836USD/t – LME) on 03.02.2017. The forecast implied a growth more or less to the end of I quarter of 2017, and then it signified the shift to the correction phase to the end of II-quarter of 2017. This scenario was accomplished.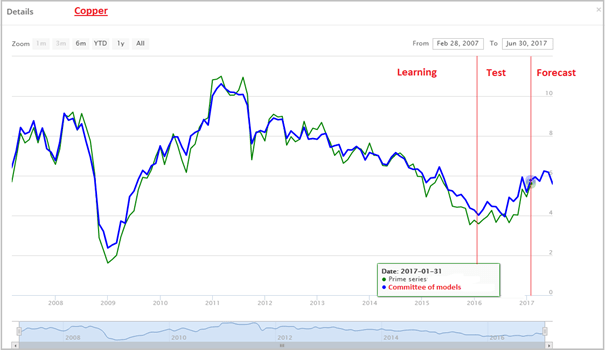 Now we present forecasts which were made in the middle of May 2017 on data to 30.04.2017.
The models were mined through June and July. The models forecast an increase of rates for the whole non-ferrous metals market (also for zinc and aluminium not included here) to the end of 2017.
Copper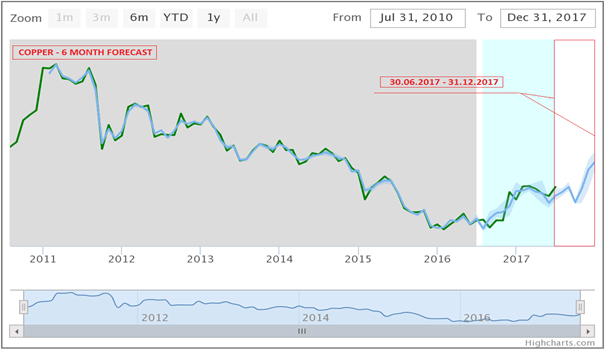 Nickel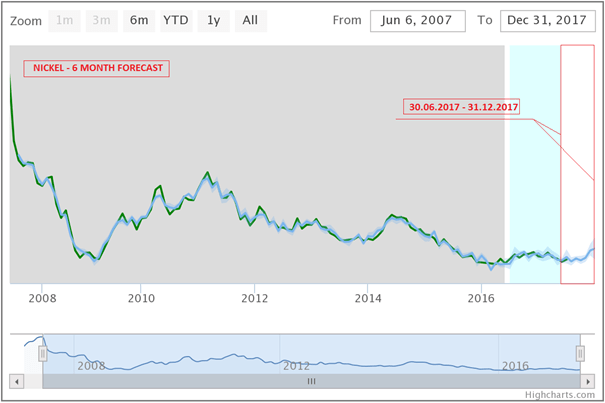 Lead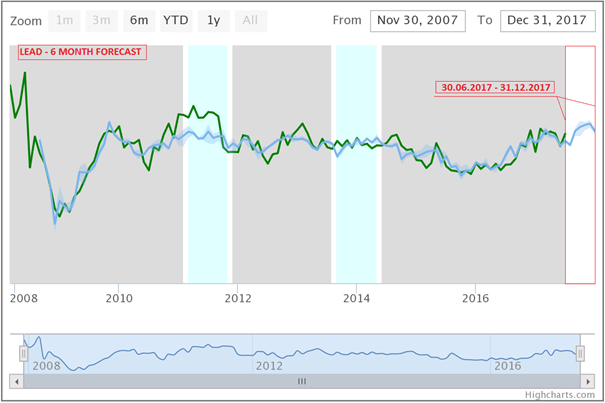 Since the middle of May up to the present moment, the rate of copper grew by 13.2%, the rate of nickel rose by 9.3%, and the rate of lead increased by 7%.
Additionally, the growth of metal rates expressed in USD should be favoured by the forecast of further weakening of American currency against Euro. We published the first forecast for EUR/USD at 1.07302 on 15.03.2017.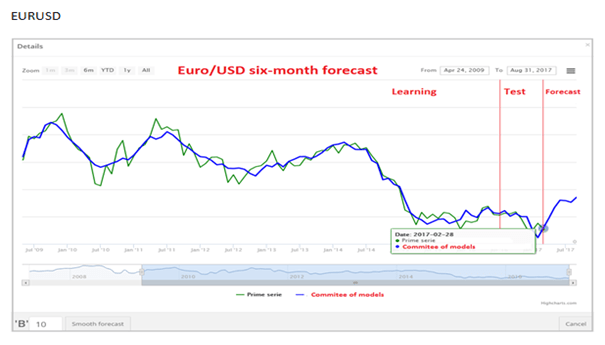 The forecast implied the beginning of strong growth which is taking place now and the current rate is 1.17589. Therefore, the rate increased by 9.5% from the moment of publication.
EUR/USD