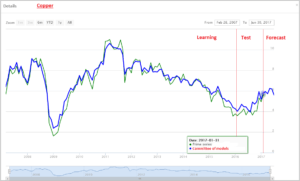 Latest news on the non-ferrous metals market.
ZINC
Mine production of zinc fell by 1.8 percent in 2016 compared to 2015 mainly due to the reduction of production in Australia, India, Ireland and Peru which was not affected by the increase in Bolivia, China and the Russian Federation. There is growing concern over current suppliers of zinc who may have an increasing problem of maintaining supply. It has been estimated that in 2017 may disappear over 1.2 million tons of annual zinc production. It is more than it is consumed in the USA for a year. Global demand for zinc amounts to approximately 13 million tons per year. What makes zinc different from other metals is that it is used where copper and aluminum (considering their alloys – aluminum alloys with zinc are called Zamak (also known as Zamac) and zinc with copper alloys are called brass). However, high consumption of zinc is observed in the steel industry which is not directly related to non-ferrous metals market. Zinc is used as an anti- corrosion coating, especially for steel sheets.
International Lead & Zinc Study Group suggests the excess demand for zinc, which in 2014 was 310 thousand tons and in 2017 it will increase by 1.98 million tons. Banks, among others, BNP Paribas and Goldman Sachs forecast rise in zinc prices. From the beginning of 2016, the rate for zinc rose by 78 per cent to 2nd of February 2017  – it was the highest rate of all the listed non-ferrous metals.
COPPER
The global balance of refined copper for the year 2016 given by the International Copper Study Group notifies that demand will exceed supply by about 56 thousand tons. World demand for this metal is about 23 million tons.
China generates about 40 percent of global copper demand and having that in mind the condition of the economy in this country has the largest impact on the price of this metal. In the long-term demand for copper in China should be reinforced by investments in the sector of renewable energy and the need to reduce pollution in large cities. The production of energy rapidly increases on Chinese wind farms. Most of this energy is generated outside the cities, therefore, the demand for copper occurs (power cables).
In the meantime, production of refined copper kept pace with demand in the subsequent months of 2016. International Copper Study Group has estimated oversupply by 160,000 tons in 2017. Nevertheless, since the beginning of 2016 copper prices are rising (by 1st of February 2017 they raised by about 28 percent). Since October 2016 the increase is quite rapid. Besides, for a few years now the demand surprises researchers that it turned out to be bigger than expected.
ALUMINUM
Because of the numerous advantages of aluminum, it is used in virtually every industry, so its consumption year by year increases. According to forecasts by the International Energy Agency, between 2003 and 2030 demand for aluminum will increase by more than 50 percent, among others, due to the rapid development of LED lighting and the development of the automotive industry.
Global production of aluminum currently amounts to about 58 million tons, while in 1973 it was 12 million tons.
The popularity of modern LED lighting is steadily growing. At this particular area, aluminum is used as a radiator. The combination of these two elements results in economic, ecological and aesthetic benefits. According to research by McKinsey & Company, the latest market share of  LED lighting industry for Europe, Asia, and North America amounts to 7 per cent but it is expected to increase up to 70 percent in 2020. In the European Union, this increase could be even greater due to the EU directive which started withdrawing traditional light bulbs from the lighting market in favor of more environmentally friendly lighting. Therefore, there is also expected strong growth in consumption of aluminum in this industry.
Despite the modernization of technological processes, aluminum production is still energy consuming. Rising electricity prices resulting from, among others,  EU regulations led to the closing of the only one primary aluminum smelter in Poland in 2009. Currently, this primary raw material is imported. It is important to remember that the energy consumption used to produce 1 ton of primary aluminum is four times higher as compared to the production of one ton of zinc and, moreover, it is sixteen times higher than in the case of production of 1 tonne of electrolytic copper.
The rate of aluminum is steadily increasing since the beginning of 2016. To date of 2nd of February, it increased by more than 20 percent.
MARKET PERSPECTIVE OF SELECTED NON-FERROUS METALS IN THE LIGHT OF FORECAST BY EXMETRIX MODELS.
The forecasts for zinc, copper, and aluminum look similar. Thus, we have suggested an increase more or less by the end of the first quarter of 2017 and then move to the correction phase. The differences relate to the scale of expected exchange rate movements, while it is worth mentioning that increase in case of zinc from the beginning of 2016 is now almost three times greater than in copper and almost four times higher than that of aluminum. See the presentation…