In Poland as well as in Europe a significant decrease of non-smokers has been registered. Smokers struggle with severe health problems such as ageing of the skin, cardiovascular disease, arteriosclerosis, respiratory distress and diabetes. Smokers are at particular risk of cancer and demise at the worst. Cigarettes contain addictive nicotine. Cigarette smoke is also dangerous for passive smokers.
What has contributed to the reduction in the number of smokers? For sure, it is health awareness, the evolution of medicine and skyrocketing prices of cigarettes. In many cases, e-cigarettes and healthy lifestyle influenced rejection of cigarettes.
Women are less liable to smoking. It is primarily affected by maternity and beauty care. Through the last ten years, the number of smokers among women declined by 14%. At the end of 2000 the percent of women-smokers totalled 37.9%, but at the end of 2015, it was 23.7%.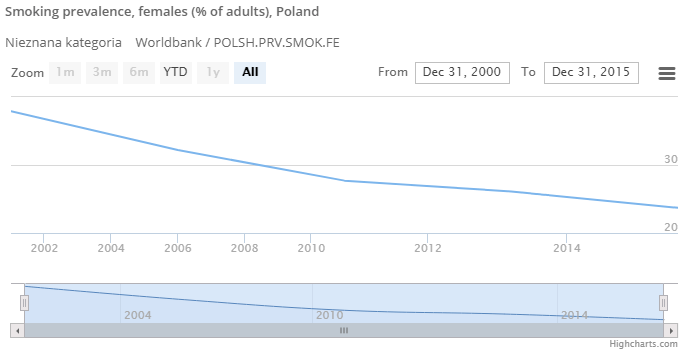 In Europe dynamics of the decline of women-smokers is lower than in Poland. Within the last 15 years, the percent of smoking women lowered by 3.6%. In 2000 it was 27.9% of European women who smoked but now the percent amount to 24.3%.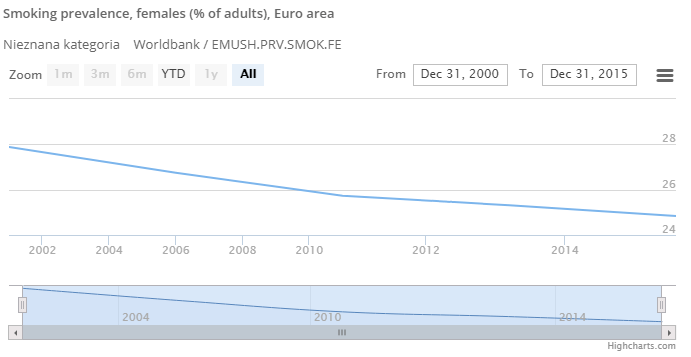 Men often smoke in Poland, although there are also decreasing trends. At the end of 2000, there were 46.9% of smoking men. Nowadays 32.4% of men reach for cigarettes. Dynamics of decline is higher in this particular case contrary to women.
The average European percent of addicted men amounted to 39.3% in 2000. Presently this average is 31% which is comparable to Poland.