Butter has become a burning issue in foodstuff. It's turned out that its prices are not all-time high in Poland alone.
The graph below depicts that Harmonized Index of Consumer Prices of butter has been increasing in Poland since September 2016. Since then, until the end of May 2017, it has grown up by 20 percentage points.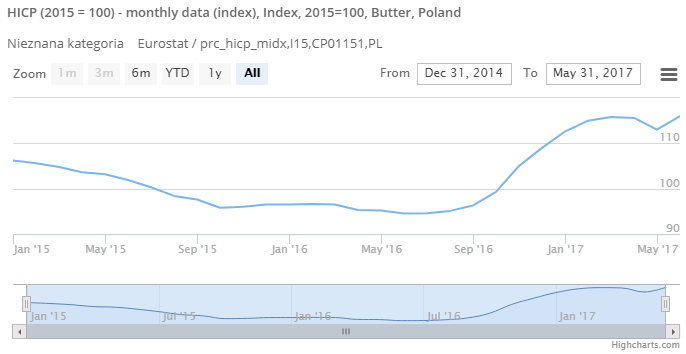 Rising butter prices seem to be not related to the volume of its production. In fact, the chart below shows that collection of products derived from milk has been increasing since the beginning of 2008. As it seems, the problem of skyrocketing prices of butter is completely elsewhere.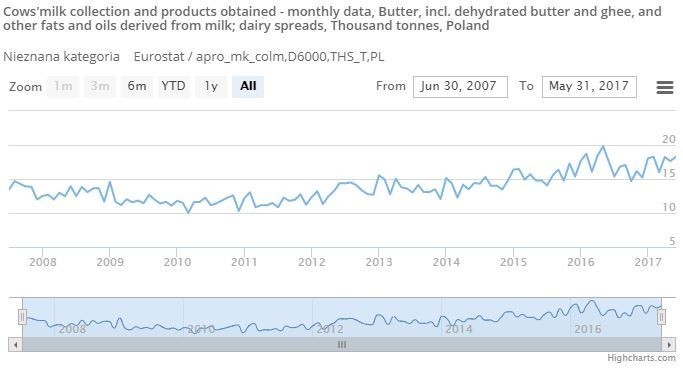 Increasing butter prices across Europe may be the result of the abolition of milk quota system which was binding for 31 years in the EU. In the early stages of the removal of dairy quota system supply of milk had rapidly grown what has led to decrease in prices of dairy production. After that, the market has begun to stabilise, and then it resulted in going from one extreme to another what has caused the present situation in the worldwide markets.
The issue of butter prices is similar in Germany. HICP of butter has started to increase there since June 2016. At that time the index amounted to 87.7 p. p. Until the end of 2017, it has grown by 40 p. p.!
HICP of butter occurs oppositely in Switzerland. It has been falling since January 2015.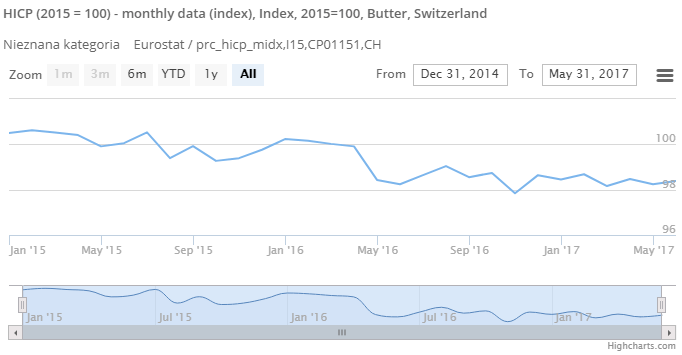 Interestingly, in the USA the prices of butter also have started to grow in the second half of 2016. It's just like in Poland. In September 2016 the index amounted to 127.7 p. p. there. Until the end of June 2017, it has risen by 50 p. p.!