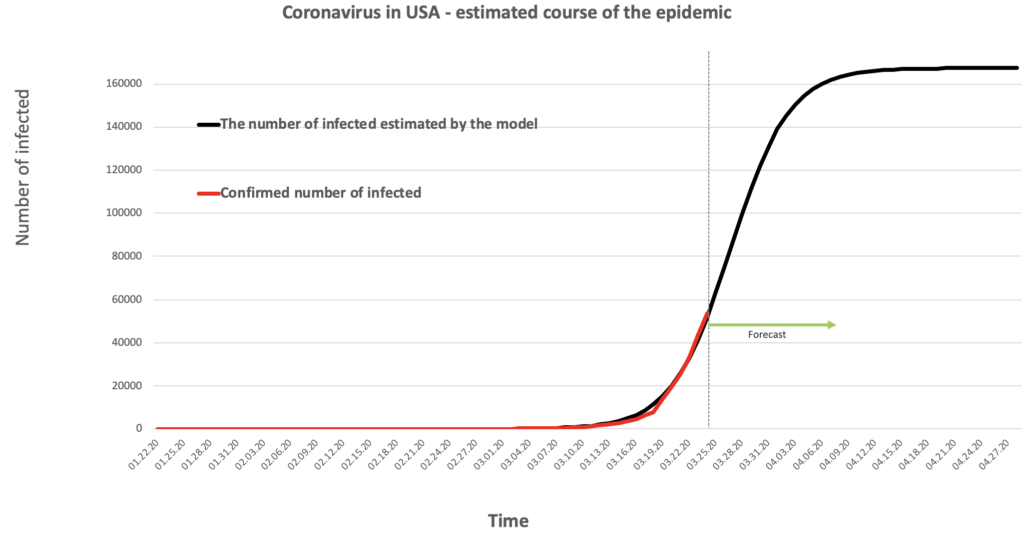 The number of people infected in the US can grow up to 160,000 cases and should be reached around April 15, 2020. The slowdown should start at around April 3rd, and clear inhibition of the cases around April 10th. The fastest growth of confirmed infected people can be as high as 10,000 cases per day and will occur in the period from today to 03/04/2020. After April 3rd, the number of cases should increase at a slower rate, while very clear inhibition should be visible around April 10th. The forecasting model have been developed by ExMetrix (www.exmetrix.com), a software company that deals with AI & Machine Learning powered economic and social forecasting and uses data about pandemic development in other countries, state of health care, demographics and health condition of the nation with particular emphasis on risk factors such as oncological, cardiological diseases, diabetes and obesity as well of level of restrictions used in particular countries.
The model suggests that the duration of the US epidemic will generally be longer than in China, but its dynamics will have a different character. After a very long period of relatively small number of cases, there is a period of rapid growth with a much greater slope than it was in China.

"We have noted that the development of the number of coronavirus cases and deaths is most significantly correlated with age and the numbers connected with those factors are different across countries. Italy and Spain seem rather old and UK and USA more obese." – says Zbig Lukos, ExMetrix CEO and chief analyst.

According to World Bank data, almost 37% of women and almost 35% of men suffer from obesity in the US. In China, this percentage is 6.5% and 5.9% respectively. Although American society seems relatively young with only 3.9% of the population over 80 years old but it is still twice more than China where the share of people over 80 in the population is only 2%. Spain has 6.1% and Italy 7%.

A combination of these adverse factors may cause the COVID -19 epidemic to have a more dramatic course in the US than in China" – adds Lukos.

Analysing in detail overweight or obesity and age factors in the model we came to the conclusion that the impact of those parameters on overall dynamics is highest in the US and UK, lowest for Japan, South Korea and China.

How the prognostic model was created

While building the epidemic model for the US, the course in countries where COVID-19 developed earlier than in the USA, i.e. in China, South Korea, Japan and some European countries was analyzed.

The following information areas were included in the construction of the virus epidemic model:

The pandemic to date in other countries
Meteorological factors
The state of health care in a given country
The state of health condition of the society, with particular emphasis on risk factors such as oncological, cardiological diseases, diabetes and obesity
Demographic structure of society. We especially paid attention to the percentage of elderly people
Level of restrictions applied by the authorities and compliance by citizens
The model was built using artificial intelligence technologies (including, but not limited to proprietary neural networks and simulated annealing algorithms). This technology allowed to estimate the impact of information from areas listed above on such parameters of the infection curve as:

slope – reflecting the increase in the number of infected at a given moment
spread – allowing to determine the maximum ceiling for the number of cases and the duration of the epidemic
Assumptions, risk of verifiability:
When building the model, we assumed that statistics in COVID-19 affected countries were not concealed or artificially modified.
Source of data on the number of infections:
Johns Hopkins University
https://github.com/CSSEGISandData/COVID-19/tree/master/csse_covid_19_data/csse_covid_19_time_series
Data sources describing individual areas included in the model:
OECD, World Bank, http://population.city/ , https://www.accuweather.com

ExMetrix is ​​a company creating a new generation of software for statistical data analysis and forecasting. ExMetrix is ​​a data analysis system using the latest statistical and numerical models based on Machine Learning and Artificial Intelligence. ExMetrix gives access to ready made predictive models and allows to create own models based on 80 million data streams available in the system or any of data sets provided.
More Information info@exmetrix.com or call Zbig Lukos +48 609 293 976